Flags
Want a country flag to fly on the flag-pole in your garden? Want flags of the countries with whom your company does business?

The flags below represent a small selection of the flags we have in stock. If we don't have the country flag you want, we will get it for you.

Sizes:
Table-top: 10 x 15 cm $9.90 each
Outdoor: 90 x 150 cm $29.90 each
Heavy duty: 90 x 150 cm $69.90 each

New Zealand flags
We have a range of 4 different sized flags of New Zealand available.
90 x 150 cm $29.90 or $39.90 for a small number
60 x 90 cm $24.90
30 x 45 cm $14.90
10 x 15 cm $9.90
New Zealand flag stickers
We have a variety of New Zealand flag stickers available:
Flag sticker small - 7.5 x 5 cm, $1.90 each
Flag sticker medium - 9.6 x 7.5cm, $2.90 each
Flag sticker large - 15 x 10 cm, $7.90 each
New Zealand flag Badge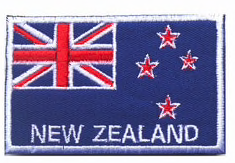 $9.90


| | | | | |
| --- | --- | --- | --- | --- |
| Argentina | Australia | Brazil | Cambodia | Canada |
| Chile | China | Cook Islands | Denmark | England |
| Ethiopia | Fiji | France | Germany | Great Britain |
| Iceland | India | Ireland | Israel | Italy |
| Japan | Kazakhstan | Morocco | Netherlands | New Zealand |
| Norway | Pakistan | Philippines | Qatar | Russia |
| Samoa | Scotland | Silver Fern | South Africa | South Korea |
| Spain | Sweden | Taiwan | Tonga | Turkey |
| UAE | United Nations | USA | Vanuatu | Zimbabwe |