Cycling New Zealand - books and maps

Every year, thousands of people cycle in New Zealand and abroad. Some are New Zealanders looking for a different adventure, and some are tourists who want to view New Zealand at a different pace.

The following books are either "how to" books, or books written by people who have cycled and who share their experiences. Also included below is a selection of maps that could be used for a cycle tour of New Zealand.

Looking for a map holder for your bike? Then click here.
---
Tour Aotearoa

These guidebooks describe the 3000 kilometre Tour Aotearoa route from Cape Reinga to Bluff.

- made to be used on the trails
- printed on water resistant paper
- include maps and elevation charts
- contact details for important businesses
Click here for an example of a map from this book.

$19.90

Classic NZ Cycle Trails

Classic New Zealand Cycle Trails guides you to the very best biking holidays this stunning little country has to offer.

It includes full ride descriptions for 46 fabulous trips, including maps and elevation charts plus valuable tips for everyone from beginner riders through to seasoned veterans.

$29.90


---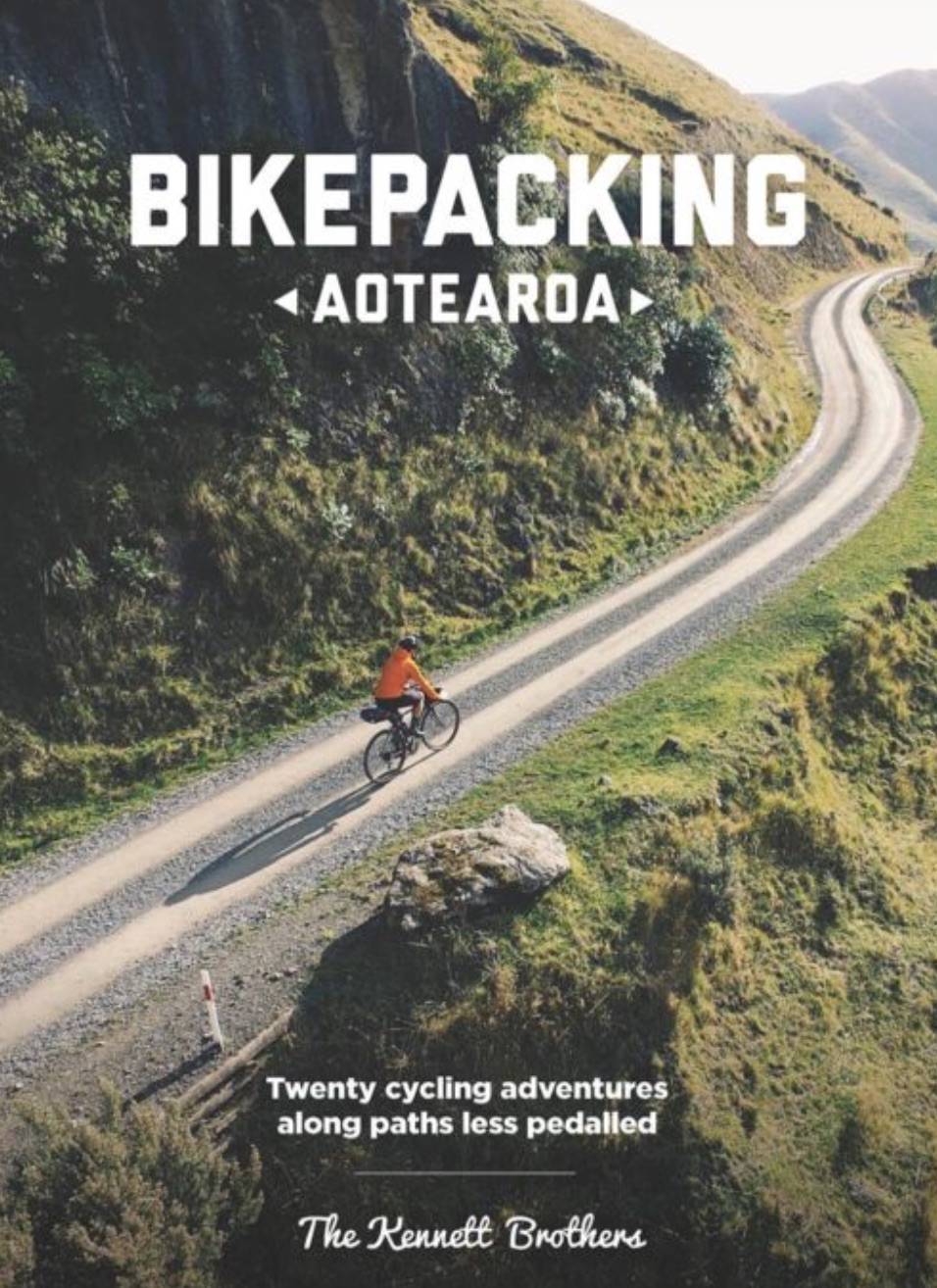 Bikepacking Aotearoa

Kennett brothers

Bikepacking Aotearoa is a guide to twenty cycling adventures around New Zealand. The trips range in length from two days to two weeks and explore the less travelled parts of this beautiful little country.

Bike packing bags strap directly on to the bike and allow you to travel fast and light, on off-road capable bikes.

$29.90


---
Classic NZ Mountain Bike Rides NORTH ISLAND

Kennett brothers

The ninth edition of New Zealand's mountain bike rides guides you to the most exhilarating and best rides around the North Island.

- Distance, times and grades
- Colour maps and elevation charts
- 184 pages

$29.90
Classic NZ Mountain Bike Rides SOUTH ISLAND

Kennett brothers

The ninth edition of New Zealand's mountain bike rides guides you to the most exhilarating and best rides around the South Island.

- Distance, times and grades
- Colour maps and elevation charts
- 200 pages

$29.90
---
Classic NZ Road Rides

Kieran Turner & Jonathan Kennett

- best 100 road rides in NZ
- everything you'll need to choose a trip
- full ride descriptions
- with route maps and altitude graphs


$39.90


Mountain Biking North
Mountain Biking South O/P

Mountain Biking North/South are guides to the best rides - 34 in the North and 41 in the South.

They range from straightforward and easy rides close to our urban areas to challenging trips deep into the wilderness.

$44.90 each
---


Pedaller's Paradise North
Pedaller's Paradise South

Cyclist's guide to the either iIsland covering most state highways and many of their alternatives, including route descriptions, sketch maps and services.

$19.90 each
Mt Taranaki

Walking and tramping trails on Mt Taranaki. 

This map is produced on microfibre for outdoors use. It's great for wiping down your sunglasses, your bike or your GPS screen.

$19.90
---
Otago Rail Trail Guide

This compact, illustrated guide is packed with useful facts and easy-to-digest information that will help you understand and appreciate the places you will visit. 

An overview of natural history explains why Central Otago is so different and special – geology, climate, plants and animals. Photos help bikers identify the common plants and animals.

$14.90
Alps 2 Ocean

The Alps 2 Ocean (A2O) cycle trail covers over 300 km – from Aoraki-Mt Cook (our highest mountain) and out to historic Oamaru on the coast.

The A2O Easy Guide gives you an overview of this part of New Zealand, its fascinating human history, as well as the region's distinctive natural features.

$14.90
---
Map Holders

Mountain bike riding and orienteering is a sport which requires some specialist gear.

Map holders are very useful pieces of gear in these environments.

$99.90

For more information, click here.
Maps for Cycling

1. South Island (1 map)
2. South Island (2 maps)
3. South Island (10 maps)
4. North Island (1 map)
5. North Island (2 maps
6. North Island (8 maps)

For more information, click below:

South Island maps

North Island maps