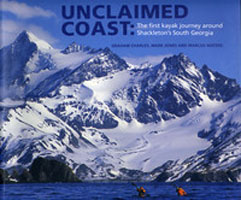 Unclaimed coast

The gripping account of one of the most extreme sea kayak expeditions ever under taken – the first successful circumnavigation of South Georgia in the Sth Atlantic.

Unclaimed Coast is an enthralling tale of triumph told by three men passionate about the environment and challenging themselves to the limit.

The story covers each leg of their journey and dives into Sth Georgia's fascinating history and as the island made famous by Sir Ernest Shackleton during his historic rescue journey in 1916.

Stunning photography shows a pristine yet often treacherous environment teeming with wildlife.