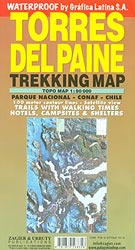 Torres del Paine

Torres del Paine at 1:80,000 on a waterproof and tear-resistant map from Zagier & Urruty covering the main part of the park and showing trekking trails, routes recommended only with a guide, campsites and refuges, etc.

The map covers the main, most visited part of the national park, extending from Lago Dickson and Lago Paine in the north - across the peaks of the Cordillera Paine and the lakes south of it – to Puerto Toro on the northern tip of the Seno Ultima Esperanza, the arrival point by boat from Puerto Natales.

Topography is presented by satellite imagery, coloured to show glaciers, etc, and overprinted with contours at 100m intervals. The map has plenty of names of peaks, plus additional spot heights. Roads are classified as unpaved or dirt and indicate sections with public bus service. On the lakes navigation routes are marked.

Trekking routes indicate unmarked sections and, where appropriate, are annotated to show trails recommended only with a guide. Also indicated are recommended horse-riding routes. Symbols show organized or free campsites, ranger stations and shelters, locations with stores, fuel supplies, bus stops and boat connections, etc. The map has latitude and longitude lines at intervals of 10'.

Also provided is a small inset showing access to the park by road and boat from Puerto Natales.