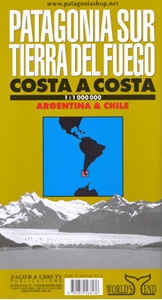 Southern Patagonia - Tierra del Fuego

Southern Patagonia and the Chilean fjords from Lago O'Higgins and El Chalten to Cape Horn. Altitude colouring with relief shading and markings for glaciers and forested areas indicate the terrain.

In addition to towns and villages, the map also shows numerous homestead and farms, with connecting dirt tracks. Symbols indicate locations of petrol stations and isolated accommodation facilites. Latitude and longitude are shown by margin ticks at 1° intervals.

Map legend is in Spanish only. The map also has a very useful table showing various facilities and driving distances across the region.

This title is part of the publishers' series of maps of Patagonia and its most visited regions.