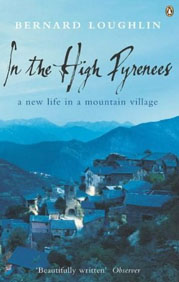 In the High Pyrennes

On the day after the death of Franco, Bernard Loughlin made his first visit to Farrera, a village in the Catalan Pyrenees. There, in a chilly seventeenth-century church, he and his Belfast sweetheart, Mary, were married; and there, by candlelight, Mary gave birth to their first child. Bernard and Mary spent the next two decades in Ireland, running the artists' retreat at Annaghmakerrig.

When they left in 1999, under the shadow of a terrible crime committed by a neighbour against their children, their destination was Farrera. They were starting a new life.

"In the High Pyrenees" is a loving and often hilarious account of the smells, sensations and neighbourly intrigues of a mountain village.

In gorgeous, vivid prose, Bernard Loughlin tells the many stories of this out-of-the-way place, where a varied cast of outsiders live alongside a handful of remaining Catalan peasants and their modernizing offspring.

This is a tale of struggles - to restore an old house and garden on a vertiginous mountainside; to wangle a mortgage from sceptical Catalan bankers; to start a business; to overcome the ghosts of the Loughlins' Irish past. A

nd it is a story of joy - in the warmth of village hospitality, in the spectacular Pyrenees landscape, and in the Loughlins' growing certainty that this extraordinary place is home.