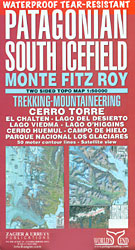 Patagonian South Icefield - Monte Fitz Roy

The South Patagonian Icefield, including Monte Fitz Roy and Cerro Torre, at 1:50,000 on a light, waterproof and tear-resistant, double-sided trekking map from Zagier & Urruty with an exceptionally vivid presentation of this area's stunning topography.

Coverage extends from Candelario Mancilla on the southern shore of Lago O'Higgins to the famous Viedma Glacier and includes El Chalten. The map has as its base satellite imagery overprinted with contours at 50m intervals plus relief shading and colouring for glaciers and wooded areas, and shows names of numerous peaks, glaciers, valleys, lakes and other geographical features.

Several trekking trails and unmarked trekking routes are clearly shown, indicating approximate timings. Numerous GPS waypoints are given for campsites, huts and other key spots along the trails and local roads. Symbols mark locations of organized or free camping sites, mountain shelters, riding stables, viewpoints, etc. Full topographic, trekking and tourist information is shown on both sides of the border. In addition to the GPS waypoints, latitude and longitude grid is at intervals of 5'. Map legend includes English.

This title also includes a large panel with a satellite image of the whole of the South Patagonian Icefield, further out in all four directions than the map itself, overprinted with routes of classic expeditions across the glaciers. Eight smaller line drawings present views with names of peaks within the main groups, e.g. the four sides of the Cerro Torre massif.