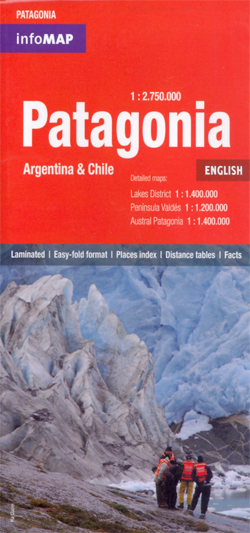 Patagonia

This map is a laminated, waterproof and tear-resistant map at 1:2,750,000 covering both the Argentinian and the Chilean side, with enlargements for Peninsula Valdés, the Lake District and Austral Patagonia, plus additional tourist information.

The map covers both countries south of the Temuco/Neuquén/Bahía Blanca line and is designed for tourist wishing to explore both sides of the border, with crossing points prominently marked and named. Road network distinguishes between paved and unsurfaced roads, gives driving distances on main routes and markslocations of fuel supplies. Railway lines and local airports are also shown.

Symbols highlight various places of interest. The topography is indicated by relief shading with names of main peaks. National parks and other protected areas are highlighted. The map has latitude and longitude lines at intervals of 2°. The index includes a separate list of border crossings with opening times, type of road access and facilities available there.

On the reverse the three most visited areas are shown enlarged in greater detail:
Peninsula Valdés at 1:1,200,000 with a calendar for spotting whales, dolphins, etc.
The cross-border lake district at 1:1,400,000 from Villarrica and Pucón to beyond Puerto Montt on the Chilean side and in Argentina the region around the popular resorts of San Martín de los Andes, San Carlos de Bariloche and El Bolsón.
Austral Patagonia from Perito Moreno National Park to Punta Arenas, including the Torres del Paine National Park at 1:1,400,000.
The map also provides additional tourist information with brief descriptions of main sights, a list of facilities in the national parks, a distance table, climate charts, etc. Map legend and all the text are in English.