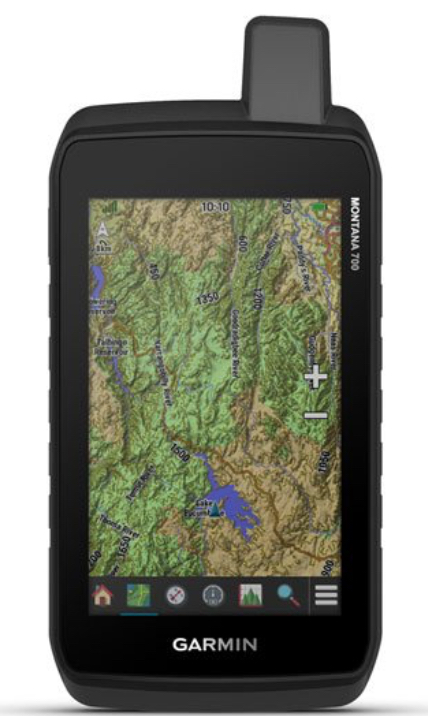 Montana 700 - $1,099

Montana 700i - $1,249 (Montana 700 with InReach)

Montana 750i - $1,449 (Montana 700 with InReach and camera)

Download a Montana 700 comparison.

Mapping:
These units come preloaded with Garmin's TopoActive mapping. For New Zealand, the scale of this mapping is around 1:80,000 scale.

However, for an additional $100 (for each unit), Freshmap, at 1:50,000 scale, can be added.

The Montana 700 handheld brings advanced outdoor features into a sturdy 12.7cm format that's ideal for navigation on foot, bike, kayak, ATV and more.
Routable TopoActive Australia and New Zealand maps.
Meets MIL-STD 810 for thermal, shock, water and vibration.
Get the clear perspective of BirdsEye Satellite Imagery right to your device.
ABC sensors and multiple GNSS networks have your back.
Power your adventures with 18+ hours of lithium-ion battery life in GPS mode your on any terrain. 
Rugged by design
This durable, water-resistant handheld is tested to U.S. military standards and features a glove-friendly 5" touchscreen that's 50% larger than previous Montana models.

TopoActive Australia and New Zealand maps
To navigate your adventures, use preloaded TopoActive Australia and New Zealand maps. View elevations, coastlines, rivers, landmarks and more.

Satellite views
Use direct-to-device downloads of BirdsEye Satellite Imagery(no annual subscription required) to see photo-realistic views and create waypoints based on landmarks.

ABC sensors
Navigate your next trail with ABC sensors, including an altimeter for elevation data, barometer to monitor weather and 3-axis electronic compass.

Active weather
Use cellular connectivity1 to access up-to-date Active Weather forecasts through the Garmin Connect™ app.

Dog Tracking
For hunters and trainers, this Montana syncs with compatible Astro series handhelds (sold separately) to help track sporting dogs in the field.

Multi-GNSS Support
Access to GPS, GLONASS and GALILEO satellite networks enables Montana®700 to track in more challenging environments than GPS alone.

Location Sharing
The LiveTrack feature lets you wirelessly connect your device with other compatible Garmin GPS users, so they can follow your tracks, routes, waypoints and adventures.

Expedition Mode
Trek far and wide off-grid. Use Expedition mode, an ultralow-power GPS reference, to keep Montana tracking for a week or more between recharges.

Battery Options
An internal, rechargeable lithium-ion battery pack provides more than 18 hours of battery life in GPS mode. It can also be powered with traditional AA batteries.

Vehicle Mounts
A variety of Montana handheld-compatible mounts (sold separately) lets you adapt your navigator for use on ATVs, boats, cars, motorcycles, RVs or other vehicles.

General
Physical dimensions 8.76 x 18.30 x 3.27 cm
Touchscreen
Display size 6.48 x 10.80 cm; 12.70 cm
Display resolution 480 x 800 pixels
Display type WVGA transflective, dual orientation
Weight 397 g with included lithium-ion battery pack
Battery type rechargeable lithium-ion (included) or 3 AA batteries (not included); lithium recommended
Battery life GPS Mode: up to 18 hours Expedition Mode: up to 330 hours
Water rating IPX7
Mil-std-810 yes (thermal, shock, water, vibe)
High-sensitivity receiver
Interface High speed micro USB and NMEA 0183 compatible
Memory/history 16 GB (user space varies based on included mapping)
Maps & Memory
Preloaded maps - TopoActive Australia and New Zealand
Ability to add maps
Basemap
Automatic routing - with optional mapping for detailed roads
Map segments 15000
Birdseye - direct to device
Includes detailed hydrographic features (coastlines, lake/river shorelines, wetlands and perennial and seasonal streams)
Includes searchable points of interests (parks, campgrounds, scenic lookouts and picnic sites)
External memory storage
Waypoints/favourites/locations 10000
Tracks 250
Track log 20000 points, 250 saved gpx tracks, 300 saved fit activities
Routes 250, 250 points per route; 50 points auto routing
Rinex logging
Sensors
GPS
GLONASS
GALILEO
Barometric altimeter
Compass
GPS compass (while moving)
Daily Smart Features
Connect iq™
Virb® remote
Pairs with garmin connect™ mobile
Active weather 
Smart notifications on handheld
Safety and Tracking Features
Outdoor Recreation
Point-to-point navigation
Compatible with basecamp™
Area calculation
Hunt/fish calendar
Sun and moon information
Xero™ locations
Geocaching-friendly
Custom maps compatible
Picture viewer
InReach Remote Widget
Led beacon flashlight
inReach® Features "i" units only
InReach Remote Compatible
Outdoor Applications
Compatible with Garmin Explore™ app
Garmin explore website compatible
Dog tracking - when paired to compatible dog track system

Connections

Wireless Connectivity Yes (Wi-Fi®, Bluetooth®, ANT+®)