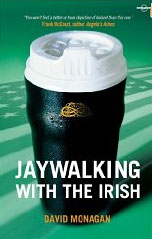 Jaywalking with the Irish

In 2000, American-born journalist Monagan and his wife packed up their Connecticut house and their three children and returned to their roots in Cork, Ireland. "Why not muster one great adventure before we were worn down with age or savaged by school tuition bills?"

Monagan had long adored Ireland, having studied in Dublin and occasionally revisited. His passion remains at the surface of his memoir, yet the Ireland of the present often bears little resemblance to the one of his memory.

Monagan recounts enrolling his children in school; watching his wife struggle to find work; trying to blend in at the local pub; and navigating Ireland's byzantine bureaucracy with a light touch. Monagan's story, though, grows dark as his family finds itself at the mercy of teenage hoodlums, and one son has difficulty adjusting to school.

The story floats from incident to incident until midway through, when Monagan decides he wants to start a regional magazine. The various characters occasionally blur together, and Monagan skates through his final two years in Cork too quickly, insufficiently tying up loose ends. The writing, however, is frequently mellifluous, offering a glimpse into some of Eire's still-existent magic and delving into the slippery questions of identity that confront most travelers.