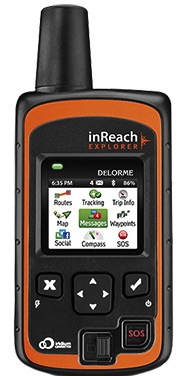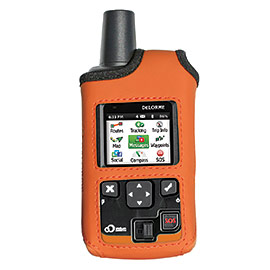 InReach Explorer

$799 (Case $59.90)
Click here for a detailed information sheet about InReach charges.

People love the ability to be able to send and receive replies from those they communicate with. They also like the message confirmation they receive when they send a message. You can pair it with a smartphone via an app which makes the sending of messages a little easier via a larger screen and authorised users can remotely view the location of a unit without any input from the user. 

The Explorer provides the means via which a user can create a route via their account, place waypoints on that route and sync their Explorer with their account.  This transfers the file into the unit and the user can then use the unit to direct them where they need to go and to tell them the distance they are from the next waypoint.  They can also log their own GPS location for fututre use as required. Mapping is provided via Bing mapping.

There are no term contracts and charges are debited monthly in NZ dollars.  Available plans start off at $22.95 per month.  A user can suspend service by paying $5.95 per month during the OFF Season and set it up again on line when they want to use it again.

Features of the Explorer
Create or view a route, drop waypoints, see your detailed GPS tracks, and navigate with the on-screen map view.
View route details such as distance and bearing to destination.
Equipped with a digital compass, barometric altimeter and accelerometer.
Plan your route online ahead of time, including waypoints, and share it with family and friends to follow along and watch your progress.
Send and receive 160-character text messages with GPS coordinates to cell numbers or email addresses worldwide and post updates to social media.
Adjustable tracking intervals from 10 minutes to 4 hours allow you to track your trip and share you location, including GPS coordinates, course elevation and speed. Trigger an SOS, receive a delivery confirmation, and communicate back and forth with GEOS, 24/7 search and rescue monitoring centre.
Audible message notifications. Designed for maximum durability in harsh environments (waterproof, dustproof, & impact-resistant).
Long-lasting internal rechargeable lithium battery for ultimate convenience and portability.
Up to 100 hours of battery life in 10 minute tracking mode with a clear view to the sky.
Technical Specifications

Iridium Connected
  -  Messages and track points sent via the satellite network
  -  Uses Iridium 9603 short-burst technology

iPhone, iPad, iPod Touch and Android compatibility
  -  Compatible with a range of iPhones, iPads and iPods.
  -  Compatible with Android 2.2 and later

Physical Specifications
  -  Dimensions, 149mm high including antenna, 62mm wide, 26mm depth
  -  Weight with internal lithium polymer batter, 189 grams
  -  Waterproof and dustproof (IP67 1 metre for 30 minutes)
  -  Impact resistant (meets Mil STD 810F)
  -  One year warranty

Temperatiure Ranges
  -  Operating temperature: -20c to 60c
  -  Storage temperature: -40c to 85c