---
Garmin Handheld Marine GPS
What distinguishes these GPS from other hand-held GPS (which could also very easily be used for marine purposes) is their ability to float.

Any hand-held GPS can be used as a marine GPS because they will all withstand being in water to the depth of a metre for up to 30 minutes.


---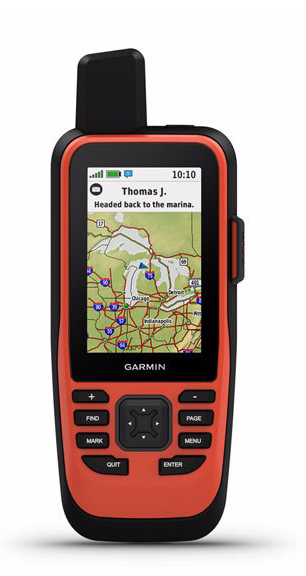 GPSmap 86i
Cast off confidently with the GPSMAP 86i handheld.

Whether you're out for a day of fishing, sailing or cruising, you'll gain peace of mind that comes from having a backup navigator with satellite communication and interactive SOS.

This premium handheld floats and has a sunlight-readable 7.6cm coluor display.

Plus, wireless connectivity makes it a virtual extension of your onboard marine system, giving you added awareness and convenience.
Price: $999
---
GPS 73

This easy-to-use handheld is the perfect navigational solution for boats, sailboats or small watercraft that do not have a chartplotter.

Use on land or water — it floats!

Features SailAssist, including virtual starting line, heading line, countdown timers and tack assist.

Price: $345

GPSMap 78

The GPSMAP 78 features crisp colour mapping, a high-sensitivity receiver, new molded rubber side grips, plus a microSD™ card slot for loading additional maps.

And it floats.







Price: $395
---
GPSMap 78s

The GPSMAP 78s features a 3-axis compass, barometric altimeter, a high-sensitivity receiver, moulded rubber side grips, plus a microSD™ card slot for loading additional maps.

And it floats.





Price: $495

GPSMap 78SC

The GPSMAP 78SC features a high-sensitivity receiver, new moulded rubber side grips, nautical charts for New Zealand and Australia, plus a microSD™ card slot for loading additional maps.

And it floats.




Price: $595
---
GPS Mapping
There are 3 types of mapping:
1. City Navigator
2. Topographic mapping
3. Bluecharts (marine)



GPS facts
The first GPS satellite was launched in December, 1978.

Each satellite weighs approximately 1,000 kilograms and is about 8 metres across with the solar panels extended.

Transmitter power is only 50 watts, or less!


GPS FAQ
All you ever wanted to know about GPS.

If you've got a question to which you can't find an answer, then email and ask us. We'll do our best to answer.


GPS Accuracy
The accuracy of a position determined with GPS depends on the type of receiver.

Most hand-held GPS units have about 8-15 metre accuracy.

When the system was created, timing errors were inserted into GPS transmissions to limit the accuracy of non-military GPS receivers to about 100 metres.

This part of GPS operations, called Selective Availability, was eliminated in October 2000.

Marine GPS comparison

Download an
Marine GPS
series comparison.

(Requires Acrobat Reader)