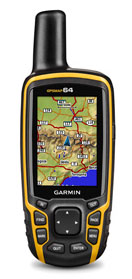 GPSMap 64 - $425; with Freshmap NZ preloaded - $529
Rugged, Full-featured Handheld with GPS, GLONASS
6.6cm sunlight-readable colour screen
High-sensitivity GPS and GLONASS receiver with quad helix antenna
4 GB of internal memory and a microSD™ card slot
250,000 preloaded caches for paperless caching from Geocaching.com

GPSMAP 64 features a sunlight-readable color screen that supports BirdsEye Satellite Imagery (subscription required) and Garmin Custom Maps. Rugged and waterproof, GPSMAP 64 uses a quad helix antenna for superior reception.

Explore the Terrain
GPSMAP 64 comes with a built-in worldwide basemap with shaded relief so you can navigate anywhere with ease. With photo navigation, you can download geotagged pictures from the Internet and navigate to them.

Keep Your Fix
With its quad helix antenna and high-sensitivity, GPS and GLONASS, receiver, GPSMAP 64 locates your position quickly and precisely and maintains its location even in heavy cover and deep canyons. The advantage is clear — whether you're in deep woods or just near tall buildings and trees, you can count on GPSMAP 64 to help you find your way when you need it the most.

Add Maps
Adding more maps is easy with Freshmap detailed topographic maps (at 1:50,000), and Garmin marine and road maps.

Find Fun
GPSMAP 64 supports paperless geocaching with 250,000 preloaded caches with hints and descriptions from Geocaching.com, and has a 16-hour battery life. By going paperless, you're not only helping the environment, but also improving efficiency. GPSMAP 64 stores and displays key information, including location, terrain, difficulty, hints and descriptions, which means there's no more manually entering coordinates and paper printouts! Slim and lightweight, 64s is the perfect companion for all your outdoor pursuits.

Plan Your Next Trip
Take charge of your next adventure with BaseCamp™, software that lets you view and organize maps, waypoints, routes and tracks. This free trip-planning software even allows you to create Garmin Adventures that you can share with friends, family or fellow explorers. BaseCamp displays topographic map data in 2-D or 3-D on your computer screen, including contour lines and elevation profiles. It also can transfer an unlimited amount of satellite images to your device when paired with a BirdsEye Satellite Imagery subscription.

Physical & Performance:
Unit dimensions, WxHxD: 6.1 x 16.0 x 3.6 cm
Display size, WxH: 4.1 x 5.6 cm; diag 6.6 cm
Display resolution, WxH: 160 x 240 pixels
Display type: transflective, 65-K color TFT
Weight: 260.1 g with batteries
Battery: 2 AA batteries (not included); NiMH or Lithium recommended
Battery life: 16 hours
Water resistant to IPX7 standard.

Interface: high-speed USB and NMEA 0183 compatible

Maps & Memory:
Basemap
Ability to add maps
Built-in memory: 4 GB
Accepts data cards: microSD™ card (not included)
Waypoints/favorites/locations: 5000
Routes: 200
Track log: 10,000 points, 200 saved tracks

Features:

Automatic routing (turn by turn routing on roads)
Geocaching-friendly (paperless)
Custom maps compatible
Photo navigation (navigate to geotagged photos)
Hunt/fish calendar
Sun and moon information
Area calculation
Custom POIs (ability to add additional points of interest)
Picture viewer
Garmin Connect™ compatible

Accessories included with GPS:
USB cable
Quick start guide

Optional accessories available:
Micro SD card
Power Cable
Car Mount
Marine Mount
Auto Windshield (Suction) Mount
Handlebar Mount
Case
Antenna