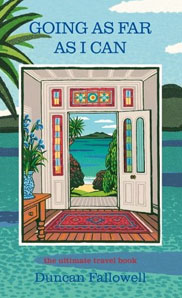 Going as Far as I Can

When Duncan Fallowell was left some money by a friend, he decided to put into practice a long held idea - to travel as far as possible from home so that he need never travel again and could relax. For him, this meant travelling to New Zealand, where another fantasy soon asserted itself - 'to find the place of perfect exile'.

Fallowell's curiosity leads him onto the strangest paths and he found himself in pursuit of unknown painters and lost buildings and sex underground, of Karl Popper and a creature with the third eye and rose wine, of Vivien Leigh and Laurence Olivier who'd toured the country in the year of Fallowell's birth, of suicidal writers and nuns and elusive answers to impossible questions.

The faraway paradise gradually turns into a glittering stranger on the Pacific rim, filled with the uncertainties of our times - but also a wonderful place to breathe. The result is a moving encounter with the past, an anxious gaze into the future, but most of all a vivid voyage through the contemporary world, by turns profound, comical and erotic.