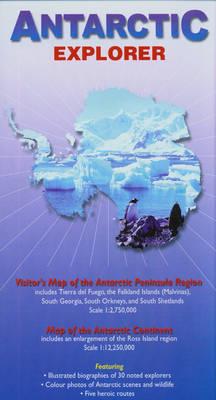 Antarctic Explorer

This is a folded map of the continent at a scale of 1:12,250,000 with an enlargement of Ross Island and McMurdo Sound at 1:1,750,000, and with enlargements on the reverse of Graham Land at 1:900,000, South Georgia at 1:800,000, and the South Shetlands and Tierra del Fuego at 1:2,750,000.

Antarctic bases and territorial claims are shown and information has been provided on interesting continent specific geographical and oceanographic features. Spot heights and lines of latitude and longitude are shown, and glaciers, ice shelves and mountains named.

The map features colour photographs of Antarctic scenes and wildlife, maps five historic exploration routes and displays illustrated biographies of 30 noted explorers.