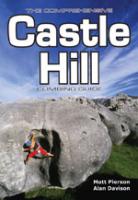 Castle Hill Climbing Guide

Painstakingly researched and designed, this authoritative 256 page publication presents a detailed description to every climb ever established within Castle Hill's two most popular areas: Quantum Field and Spittle Hill.

Also contained are three comprehensive mini-guides to the excellent climbs of Rambandit Gully and the lower and upper areas of Cave Stream. All seven remaining areas are introduced providing essential information regarding access and approach together with an overview of each area's most worthwhile climbs.
70 detailed topos covering 203 routes and over 5,300 boulder problems
New and improved navigation tools include Areal Topos, map-side satellite photos, map overspill and orientation symbols
Illustrated directly from satellite imagery, maps indicate features such as overhangs, cracks, huecos, runnels and bushes
All climbs are thoughtfully described, graded and star-rated for quality
Route descriptions contain essential safety information such as length, number of bolts and lower-off method
All maps have compass bearings and are to a scale which is standard throughout
Featuring an extensive collection from NZ's award-winning climbing photographers
256 pages, black and white photos
Quantum Field; Spittle Hill; Rambandit Gully; Cave Stream; Flock Hill; Dry Valley; Wuthering Heights; Dark Castle; Prebble Hill; Five Valley Area; Gorge Hill; Back of Flock; History; Geology; Weather; Terrain; Rest Days; Injury; Travel and Accommodation