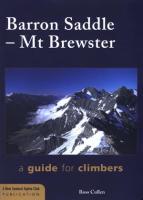 Barron Saddle – Mount Brewster

The ranges covered offer many fine rock and snow climbs on peaks slightly lower and less glaciated than those at Mount Cook, though there are also many climbs of a technical nature.

The mountainous region between Mount Cook National Park and Haast Pass contains some superb alpine country. Its delights include major rivers, tussock covered valleys, attractive forest, and five mountain ranges including the Main Divide with peaks reaching up to the high point of 2746m altitude.

The valleys are popular tramping regions but fewer climbers visit the area, perhaps because all the prominent peaks have now been climbed, the rock is typically of moderate to poor quality, and none of the peaks reach the magic height of 3000m. However, for those who appreciate superb river, bush, rock and snow vistas, are tired of moraine bashing, and enjoy the chance to tackle peaks of moderate altitude and difficulty, the region continues to charm.

Thoughtful climbers who enjoy some research can continue to find unclimbed routes on the ridges and faces of the major peaks. Twenty-three peaks in the region reach 2500m or more in altitude and provide an array of climbing experiences ranging from highly accessible Glentanner Peak to isolated Mount Strachan, from ice glacier covered Mount Dechen to rock glacier flanked Dun Fiunary Peak. from gendarme-like Black Tower Peak to massive Mount Hooker.

A total of over 280 routes are listed in this guidebook, and are an indication of the range of climbing opportunities provided by this area. While many of the earlier ascents involved traverses of often delicate ridges, the greatest potential for new routes may be in face climbs which have been overlooked until now.